The Chartreux Cat Breed
History
Legend has it that the Chartreux cat breed is descended from cats brought to France by Carthusian monks. The monastery was located in the Chartreuse Mountains north of the city of Grenoble. No records have ever been found of any such cats living at the monastery.
Another story about the origins of this different cat breed is that Chartreux cats were brought to France from Syria in the 13th century by returning crusaders. Most of these crusaders became Carthusian monks.
References to grey cats with a sturdy build and copper eyes known as 'the cats of Syria' are found in 16th century French sources. However, it is more likely that the name of this cat came from a Spanish woollen fabric called 'pile de Chartreux'.
Chartreux cats could be found living in small colonies all over France and on Belle Ile, off the coast of Brittany.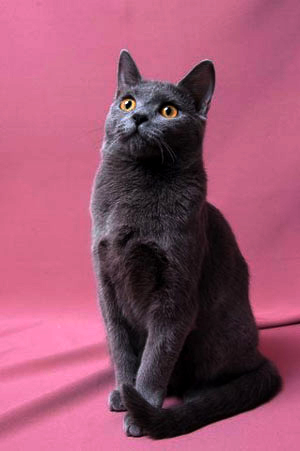 The Chartreux Cat Breed
The first documented mention of this cat breed was by French naturalist Buffon in the 18th century. An effort by European breeders kept the breed from extinction after its numbers dwindled drastically after WW I and WW II.
Helen and John Gammon brought the first cats of this breed to the USA in 1971 and in 1987, this cat breed was awarded championship status by the Cat Fanciers Association.
Another name for this cat breed is the Chartreuse cat.
---
Description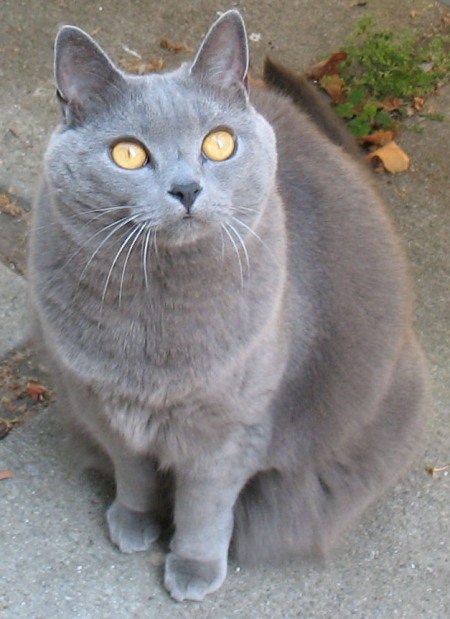 Tiarableu's Thalia Josephine - photo by Douglas Edwards
This large cat breed is muscular with short limbs and big paws. The head is rounded with a long, tapered muzzle. This gives them a smiling expression.
The Chartreux cat's coat is a soft plush of even blue with a silver sheen. Their eyes range from deepest copper to different shades of gold.
The coat length is short with a dense undercoat and a protective topcoat. Regular grooming is needed to maintain the coat's condition and to remove loose hair from the dense undercoat.
The best way to keep the coat in good condition is to rub and stroke the coat with a soft cloth or a grooming glove.
---
Personality & Temperament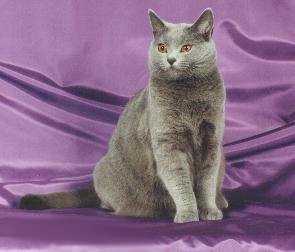 Chartreux cats are a quiet cat breed that rarely makes a sound, this might be why they are considered to be some of the cat world's best hunters. They are intelligent and learn new things very quickly.
These cats are very playful and can be taught to play fetch. They are good with children and other pets but tend to bond strongly with one specific person in the household. Despite this, they are still affectionate and loving towards other family members.
---
Health Issues
The Chartreux cat breed is a healthy and robust cat breed. There is one health concern though - slipping kneecaps (patellar luxation). Speak to the breeder as they should have screened for this condition.
Return to Different Cat Breeds from Chartreux Cat Breed
Custom Search
Do you have a story about your Chartreux cat that you would like other cat lovers to hear about?
Cat Breed Info is all about cats and people like you who love cats. That's why we would like to hear your stories - whether its about your princely Persian, your sultry Siamese or your mischievious Moggy, we want to hear it!
What other visitors have said
Click below to see contributions from other cat lovers to this page...

A stranger in our house Not rated yet
My 14 year old niece brought a (chartreux) kitten to our house. He was a rescue from her friends aging grandmother. There was about 2 months that I didn't …