The American Shorthair Cat Breed
History
The first American Shorthair cat breeds were strong, hardy cats that were used on ships to protect food supply rooms from rats and mice. In the 1900's in cat exhibitions, shorthair cats were known as Domestic Shorthairs, but when a silver classic tabby won the title of Cat of the Year, the name was changed to American Shorthair.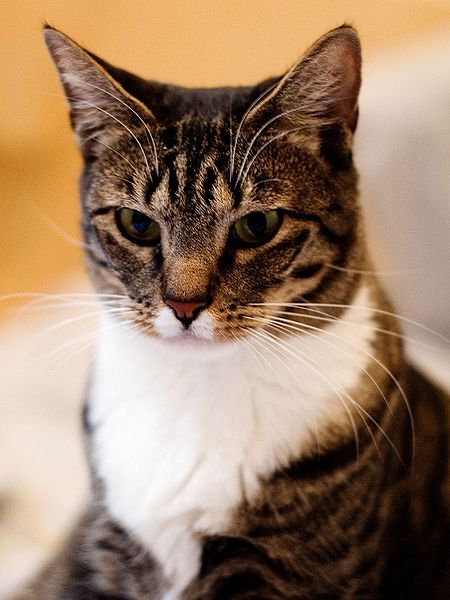 American Shorthair Cat photo by Margaret Atwood

Although the American Shorthair is a natural cat breed, selective breeding programs developed this breed into one of America's favorite cat breeds. In the early 1960's after the breed was renamed to the American Shorthair this cat breed started to make a name for itself at cat shows.
---
Description
The American Shorthair cat breed is a medium sized cat. The body is firm and muscular. As the name suggests, the hair is short and comes in a variety of colors and patterns – almost any color that you can imagine.
The head is longer rather than wider with eyes that are wide-set and rounded in shape. The ears are also slightly rounded at the tip.
A number of different looks are accepted by TICA for this breed of cat. The males are larger than the females.
The coat is short and the color of the cat affects the texture of the coat, which can be hard or soft in texture but is silky and lustrous.
The coat does not require a lot of grooming, a brushing once a week to remove loose hair is all that is required.
---
Personality & Temperament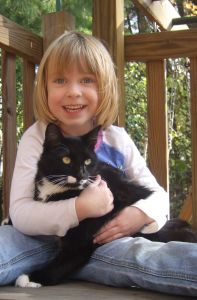 The American Shorthair cat breed is a very popular cat breed, especially with families as they are very tolerant of children. They are loyal, easy-going and take things in their stride.
The American Shorthair is intelligent, playful and curious – they like to "help" with whatever you are busy with. Although they are loyal and affectionate, they are not overly demanding – they generally choose when they want to sit on your lap.
This cat breed is the perfect companion for every kind of person as they tend to adapt to their people and their surroundings.
The American Shorthair is perfect for families with children or for elderly people who do not want an over-active cat. They are suited to living in a big house or in a smaller apartment.
---
Health Issues
The American Shorthair cat is a strong, sturdy cat with virtually no known health issues.






Return to Different Cat Breeds from American Shorthair Cat Breed
Custom Search
Do you have a story about your American Shorthair cat that you would like other cat lovers to hear about?
Cat Breed Info is all about cats and people like you who love cats. That's why we would like to hear your stories - whether its about your princely Persian, your sultry Siamese or your mischievious Moggy, we want to hear it!
What other visitors have said
Click below to see contributions from other cat lovers to this page...