What kind of kitty was my cat?
by Shana
(VA)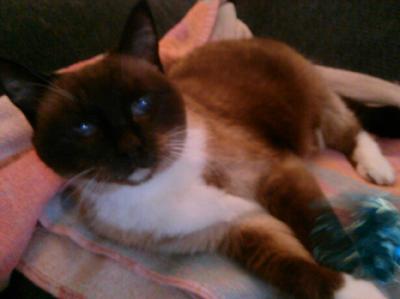 My family ran a pet store. One day a distraught man came in with two kittens. He had just accidentally hit their mother. A customer hearing came and took her brother. My grandmother kept her until my mother begged for her to give her to me. I was only 10 and instantly fell in love with her. She lived 22 years getting cuddles on demand by the end. Her eyes seemed to scan from side to side, the vet telling us that meant she was part Siamese. We believed it as she loved to "talk" back and forth with us. Occasionally she playfully play with her water and toys. She hated baths, but would come back from her water bowl soaked wet. She preferred short trips out and felt more comfortable inside. She was loving to our other cats (strangely out living them all) and our dog, who was 70lbs.
She loved shoeboxes and expected us to pick her up in them to be held in our lap, even passed around for petting. She did this so much thst we eventually made her a reinforced box (with "v"s cut in the sides for face rubbing) because, she had busted the other despite regular replacement. She was very playful and affectionate.
I miss her and loved her. I know that I can never replace her, but she matched my personality like fate. She was trusting, good at being handled, never would bite. I mean never. She was intelligent snd knew when her bath was done; which was pretty smart considering the extra steps I took for her skin. Seasonal allergies, vet diagnosed. She used to let me shave her all over (my mother made me to keep her) and forgave me immediately. These pictures are of her full coat, combed and brushed regularly (daily); something she loved.

Chronic Kidney disease eventually took her, but she was loving and sought comfort despite it all.
She was prissy in a cute way. We adored her.
Join in and write your own page! It's easy to do. How? Simply click here to return to Share your stories with us!.