what do you think he is... he has dark stripe down spine
by Marcus mummy pus
(melbourne victoria Australia )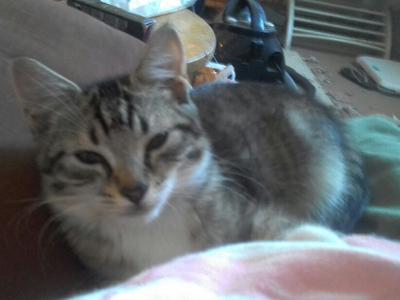 marcus
I got this guy who i think has an exotic asian father. He reminds me of a burmese cat i had in shape personality eyes and fur feel.
He doesnt meow but squeaks like ma and even no noise. He has to be on a lap most of the time.
He loves playing with my older cat and is somewhat alpha type.

He is opposite of my Norwegian Forrest cat cross scruffy who doesn't sit with people or on laps. She has started trying my lap watching him... it took a bit of jealousy from scruffy for two weeks kept them apart but marcus had the room with her favorite hiding spot under my bed... let him out and she hissed then disappeared for a day. Next day both eating well growling... two weeks later and scruffy gets up when she sees him up to play...

She even licks him...

I was petrified id have to rehouse him as scruffy is four... he had guts n just sat looking at her growling...

Now they thunder through the house wrestling. Scruffy has bite pressure points worked.. if he gets too rough she bites his toes and makes him cry... she is just asserting that she is number on pussy cat queen.

She lives him and i caught them skeeping cause every spot scruffy uses he takes over esp my super comfy expensive architectural design chair with scruffy s mohair blanket- i told you she was queen pussle...

Marcus squints and purs if you talk about scruffy to him... the overwhelming love he has again... my non fur baby thinks my comment about him squinting cause of the overwhelming feeling of love he has looking at us..

Im so into cat psychology and analyse how all cats behave... i then check if other ppl agree..
I learnt to groom a cat like a mum would with my finger..found all the sweet itchy spots... learnt massage on shoulders and neck...

I also thought that the blinking while looking at me was tryst and a sign of love...

I dont meow at the pussles but MAKE brr noises like happy cats make to each other...

And talking... i am the crazy cat lady but its out of sheer respect for such an amazing creature. .. you cant force a cat to do anything they dont want to...

I purposely walk down streets i know cats live on to have a visit with local cats. One girl has such a nice way that ppl line up to see her and she ferrys ppl back n forth along the block she lives on... once they head off another admirer will be taken back to the end of the other block...

Ive had cats just walk in places i live and at my dads... one burmese boy showed eaxh night when we git home... i said how he looked like cafe latte...dad heard his owner call him next day and hisname was latte...

Cats choose ppl and if they dont like u it might never happen...

They see your soul and know you on site...they know things beyond the realm of our understanding. ..

My dad was at a safari park in sa.. an adult male puma walked up to him and rubbed its face on his leg and purred. It sat down still purring aside him and he patted iton rhe head without thinking or sensing fear... it walked away...

I love this story as my dad is where i inherited my pussy gat girl powers from. He felt that the puma was showing love and affection kinda acknowledge him.. he said he pet it naturally and made a mrr noise over the pur... i think he even called it a pussy cat...

This was a wild animal in the park and after it walked away the tour guide said how he had mauled a visitor only two weeks before...

Cats understand ppl better than ppl... i see scruffy get anniyed with the non fur baby but i see that she realizes my girl is a juvenile human...

I always impart my knowledge of the cats to my girl and she gets a sense of achievement knowing how to respectfully live and love the fur babys... i call her sister puss and they know what i say...

One day im sure psychiatric services will knock on my door cause ppl here me talking to the fur babied...

Cats have helped humans store grains and keep rodents down... Egyptians said they were a gift from the gods as they protected grain stores meaning food was always available and famine never affected the region...

Thats why marcus got his name as he was cleopatras lover.. she loved cats so he got the strong name after mars god of war...

Like i said cats choose their ppl and for different reasons. Scruffy has ppl she just plays attacks and fights but not viscious... its like she gets a kuck out him ruffling her up... she knows his walk and will get excited hissing when she hears the lift bell and he walks to my door... she hides and jumps on him.folliws him nipping his ankles which she does to me for attention not sinking the teeth in byt just holding on... she is not a lap cat but sometimes she licks my hand...

Her favourite thing is just hanging out and follows me from room to room lazing on the floor... she will sleep on the bed at my feet when its cold. Niw marcus has shown her he lukes my lap she has snuggled on me when i napped in an arm chair... it was surreal...

I love all cats and respect the ones who dont like me and theres only been one...we are so lucky that we can own cats as they are support animals and companions... i no longer get depressed cause the live of the fur babys is a special priveledge and they like me cause i must be a good cat person or im just easily trained... cats train you to do what they want when they want which i dont mind... being a cat mummy is a role i love and get much rewards from and i dont get ppl expecting me to stay out for days cause i gotta get home to the fur babys... holidays can only be short as i dont like ppl coming in my house or cat lodges but i dong like holidaying . To me chilling with the kitties is ideal and just as good as going to the beach...

If you have been patient and read this through thank you. Its like verbal vomit i carry on but thats cause i love cats and if you got this far you must luv em too.
Join in and write your own page! It's easy to do. How? Simply click here to return to Share your stories about your American Shorthair cat here!.