Updates to posts "Dynamite comes.." and "Beautiful, Loving Nut.."
by Clive
(NE Johannesburg, South Africa)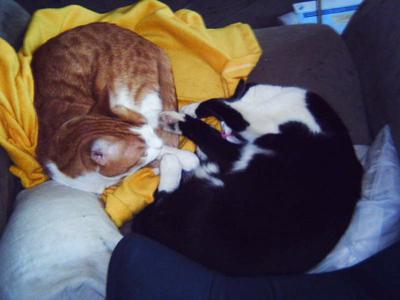 KC&BB
Low-quality images:
Dynamite comes..: 35mm print photos taken early 70's water damaged.
I scanned negatives, corrected to positive.
Which is why photos from that era are poorer quality.

Baffy/BAF: 'Bitumen Aceteate Fibre', soft white filler used in duvets, anoraks.
Charka grew into a dark grey oriental-shape, adopting 2 dogs and Tuxedo CC (Charlie Chaplin) as new "toys".
Had grey-blue eyes, Siamese "operatic" voice and squint eyes.
Baffy was a huge, gentle lady, slightly squint green/yellow eyes. Picture this: 2 dogs, 3 cats, playing 'Tag'. House mayhem!! :).
BB and KC:
My (late) Mom first got KC from a colleague who's cat had 12 kittens!!.
BB came later, company for KC.
KC preferred to sleep on lap, gentle fuss, "no rough play."
BB loves hand-cat wrestling game, (ouch), dribbling paper balls, or darts around lounge, prr? prr?.
Then head-butts shoes and denims.
He sometimes played too rough with KC, causing KC to squeal or growl.
When i went "hey!", both would run.
Join in and write your own page! It's easy to do. How? Simply click here to return to Share your stories with us!.