The Eyes Have It
by Clive
(vogesclive@gmail.com)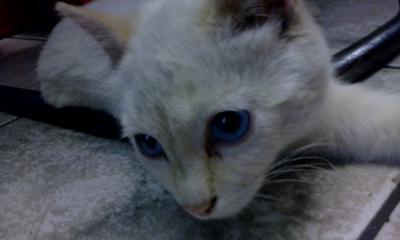 Jackie2 (Balinese?)
This striking blue-eyed female teenage (Balinese?) cat belongs to a nearby shopkeeper, who told us he keeps "Jackie2" in the shop to "catch rats".
Their previous cat, a huge ginger tabby tom, "Jackie", used to roam the surrounding neighbourhood, then one day didn't return.
Maybe ran over, or adopted by a loving family with a real home.
Luckily, his school-going teenage daughter gives "Jackie2" a lot of affection in the afternoons and evenings, feeding and brushing her.
Jackie and Jackie2 both very friendly by nature, allowing customers to fuss them.
The Balinese photo is unfortunately slightly dark, as taken indoors.
When she's outside on a sunny day, I'll get some clearer shots showing cream-chocolate coat and emerald-blue eyes.





Join in and write your own page! It's easy to do. How? Simply click here to return to Share your stories with us!.