Orphan Baby
by Joan Dickerson
(Phoenix AZ)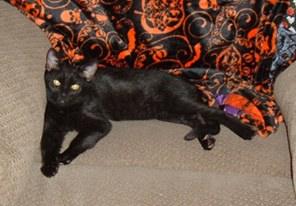 Halloween
Mr. Cat was listed on a local auction site. The ad said free to a good home if you can catch him. He was only 6 weeks old but when I took him out the box he hung over both sides of my hand. He is/was a huge black tomcat that now is loving, but not fond of outsiders.

He talks non-stop and needs attention constantly, especially at 3:00 AM. My friends even ask if he is some kind of panther mix as he moves low and slinky and is so long and sooo black.

Join in and write your own page! It's easy to do. How? Simply click here to return to Share your stories with us!.