Not This Time Curiosity!
by Daniel Richardson
(Liverpool, UK)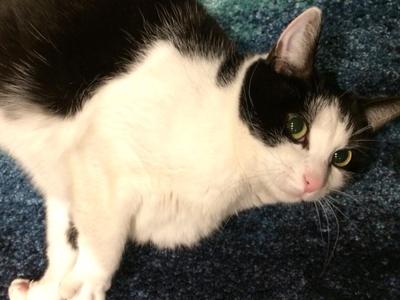 Whisky relaxing on our rug
Four years ago our lives were changed forever by the adoption of a lively 6 month old black and white cat who we decided to call Whisky..not due to our fondness of the drink (neither me nor my wife enjoy drinking whisky) but rather after her particularly prominent whiskers!

Living close to a busy road in a second floor flat at the time we had no choice but to keep her as a house cat. She didn't mind too much as she quickly discovered that there was plenty of entertainment to be found inside the flat in the form of a significant mouse problem that we had!

However as the number of mice rapidly dropped her interest in what lies beyond the walls of our flat grew.

One particularly warm Sunday afternoon as I lay having a nap on the sofa with the window open Whisky decided to poke her head out of the window to observe the birds more closely.

What happened next I'm not entirely sure, but when I awoke she was nowhere to be found in our two bedroom flat, I looked everywhere but there was no sign of her at all!

Finally in desperation I went downstairs to find out if she had indeed fallen out of the window and there she was sat outside the front door of the block of flats, frantically trying to get back in.

I've no idea how she knew where to wait to get back, or how she fell from such a great height and sustained minimal damage (a small limp which quickly disappeared) but I do know she is one very special cat...and she has gone onto prove that in more recent years by setting up a website over at www.tuxedo-cat.co.uk which aims to promote the plight of the black and white cat by encouraging more people to adopt one!
Join in and write your own page! It's easy to do. How? Simply click here to return to Share your stories with us!.