My General Boomer Powel.
by Jackie M
(MO,. USA)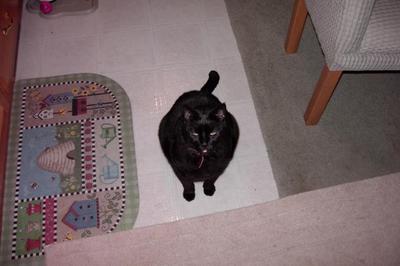 We had 2 black cats both male and both of same litter. The one baby took to me and the other took to my hubby.
My baby I named Gen. Boomer Powel since he was born just days before the war in Iraq began. the Boomer? Well was as if he just boomed his way through everything.
My Hubby's baby we called Gen. Teddy Bear Schwarzkopf for same reason, Iraq War.
Such differing personalities, mine loved to be held, decided he was most comfortable on his back like a human baby. Did it all on his own, in fact he thrust himself in that position, nearly dropped him, and from that time on I had to be prepared cause Boomer was fast getting into "his" position...My boy at the age of 8 was diagnosed with Thymoma which meant surgery.
That boy would play but had a cough, took him to vet that one said was healthy. Took 3 different vets before I found one that could see through his beautiful coat, non tearing eyes, and listen to what I was saying and do an xray. My baby underwent 4.5 hours of surgery, took months to fully recover but was cancer free. I lost my baby while visiting. He and I were sitting in my RV, he in my arms, I knew he wasn't feeling that well that day so I stayed just holding him as he wanted me to do and talking to him. He cried out as if to say no I want to stay, looked at me as if to say sorry mommy I have to go and was gone. My baby was only 14 years old, his kidneys and his heart gave out. As many of you know treat the kidneys and it may affect the heart, treat the heart and now the kidneys go bad again. Balancing the 2 wasn't easy but we did it. Now when I go his ashes go with me...I miss my baby and it's been nearly 9 years now. The picture of my baby is only one I have on computer, is reason I told of his health since was taken in RV just weeks before he went to Rainbow Bridge.
Join in and write your own page! It's easy to do. How? Simply click here to return to Share your stories with us!.