My cat Eros (Eery E)
by Aksokoni
(Durban, South Africa)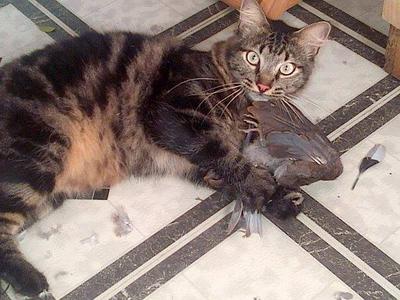 Eros with his catch of the day!
Hi, Cat Lovers.

I got my cat from a lady that I met at our local International Convention Center in Durban in November,2012. We got chatting and she asked me if I liked cats. I said yeah sure, not really knowing much, just knowing that I have love for all creatures that walk the Earth.

I had not been very ill, a couple of months earlier and didn't mind the extra company at home.

I remember the lady said that his name was Cat Stevens. I said ok but long before I had even met the cat, I knew what his name will be. I always loved the name Eros, because I knew that he will spread love in our home (with me and my two daughters, Leoa and Venus). I think that I might have annoyed the lady and her daughter because before she even left my house, I was calling him Eros.

To my amazement, he responded well very well to his new name and only came to me, he was 3 months old then. It was like he knew that I was the one, expecting him.

Ever since then, Eros has shared with us nothing. I learnt alot about cat foods, what he liked, what he didn't and vice versa, I got him spayed, vaccinated, the works. He is razor shape, just like all of us in the house. He is totally part of our family. One really amazing thing is that we live in a gated estate that has a cat community (we have to register the cat to the board of trustees, in the complex). He does still get into trouble for peeing and pooing on the staircases, on the property. The supervisor for the complex comes to me, now and again.

It has nothing to do with race but I am the only black- cat owner, in the complex. Some white folks think that I have no connection with my cat and some black folks think that I am a witch, sending my cat in the night to destroy other people's lives. It is so funny. I just laugh it off.

I have been in a bit of a situation where I had financial issues, and really needed to rent out my kids room, to have help with the rent. Most flatmates were not too keen about my cat. I remember the one lady screaming every time she saw Eros. Guess what, as much as I needed the help, I wasn't willing to give up my cat. I rather let her go, than to take away the love of our life. So, I asked her to move out. I knew for certain, that we will be able to find someone that would okay with him. Voila! The lady that takes the room doesn't have a problem with my cat, in fact she doesn't know much about cats, she didn't mind him lying around in the common areas, all she knew was that she didn't want him in her room. I was okay with that. That was fair. She has a spacious room and I get to keep my baby-boy.

He suprises us every single day. He waits for me and the kids by the gate, after work/ school. He follows me around everywhere (even to the toilet). He escorts the kids to the park and waits for them to finish playing at their friends' homes (he sits outside the door, waiting for them to come out, even if it takes an hour). He is so naughty at times, when he catches a bird, I see the excitement in his eyes but the feathers lie around everywhere (more trouble from the supervisor)

This morning, a birdie decided to pop his head in through our kitchen window. Boy o boy, was Eros excited?! He caught it and next thing we checked, the poor thing was dead. Did he revel in it or what? He was happy that he didn't have to do much work, catching the bird from the tree. It came to him. He was so proud of himself and so was I. Not that I condone it but it is in their nature to this sort of thing. His joy is my joy, his downfall is mine. My kids and I love him to bits and pieces, even if people treat us weird because we talk to him (and mind you he listens). I don't understand anyone that doesn't absolutely adore cats. They have a problem, not us (cat lovers).
Join in and write your own page! It's easy to do. How? Simply click here to return to Share your stories with us!.