The Havana Cat Breed
History
The Havana cat breed (originally known as Havana Brown) was developed by a group of British cat fanciers in the early 1950's. Mrs. Anne Hargreaves, Baroness Miranda Von Ullman and Mrs. E. Fisher bred seal point and chocolate point Siamese cats to solid black domestic shorthairs as well as Russian Blues.
The first registered cat of this breed was Elmtower Bronze Idol whose parents were a black shorthair and a seal point Siamese.
Havana Brown Cat
This new cat breed was recognized by the Governing Council of the Cat Fancy in 1958, but was known as the Chestnut Foreign Shorthair. In 1970 the name was changed to Havana.
Mrs. Elsie Quinn contacted Baroness Von Ullman in the mid 1950's and imported the first of this cat breed into the USA. The English cats are more oriental looking whilst the American cats retained the original look with more angular profile lines.
In 1983 TICA accepted this cat breed for championship status and the name was changed from Havana Brown to Havana.
---
Description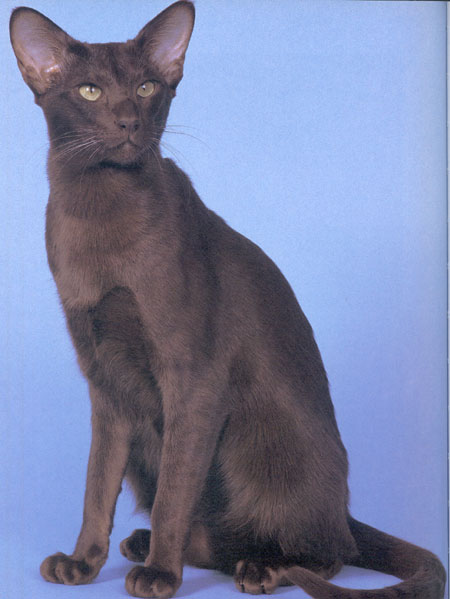 This beautiful shorthair cat comes in two colors – a pinkish grey or lilac and a rich mahogany red-brown. The whiskers match in color. The eyes are a sparkling green color which makes for a striking cat where looks are concerned. The ears are erect and forward-tilted.
This cat breed is medium sized and has a semi-foreign body type. The body is muscular and firm, making the cat graceful and powerful. Males weigh between 8-10 pounds and females weigh between 6-8 pounds.
The muzzle has quite a unique look and can be described as looking like a corn-cob (a blunt, rounded look.) This is because of the pinch at the muzzle and the full whisker pads together with a square chin. Kittens are born lilac or brown and some may have tabby markings which disappear when they reach adulthood.
Grooming is easy and all that is required is a weekly brushing to remove loose hair. You can run a chamois cloth over the coat to keep it looking shiny and lustrous.
---
Personality & Temperament
The Havana cat breed is very people-orientated and need lots of attention. They are affectionate cats that like to interact with you and will investigate everything that you do.
Consider a companion cat if you are going to be leaving your Havana alone for long periods of time.
Interactive games that involve lots of activity and stimulation are a favorite pastime of this cat breed.
---
Health Issues
The Havana cat breed is known to be a healthy and robust cat.
Return to Different Cat Breeds from the Havana Cat Breed
Custom Search
Do you have a story about your Havana cat that you would like other cat lovers to hear about?
Cat Breed Info is all about cats and people like you who love cats. That's why we would like to hear your stories - whether its about your princely Persian, your sultry Siamese or your mischievious Moggy, we want to hear it!
What other visitors have said
Click below to see contributions from other cat lovers to this page...

ally

Found this lil girl at the pound and took her home because of her color I never seen this color in a cat before what kind of cat is she... she has very …
ally Not rated yet
I found this lil girl at the pound and took her home because of her color. I have never seen this color in a cat before what kind of cat is she... she …