Tabby, tortie or ginger? Cat coat colors come in many variations, some simple to identify, others more obscure
Different cat coat colors exist with the pedigree breeds boasting the most variations.
Black, white and ginger are easy to identify but then there are the more obscure cat coat colors such as tortie or harlequin.
Different cat breeds can also have different coat patterns, for example, tabby cats can be striped or ticked and pointed cats can be red or cream.
Even hairless cat breeds have different coat patterns and coat colors which include black self, lilac self, black and white, tortie and white, blue tortie and white, seal point and blue point.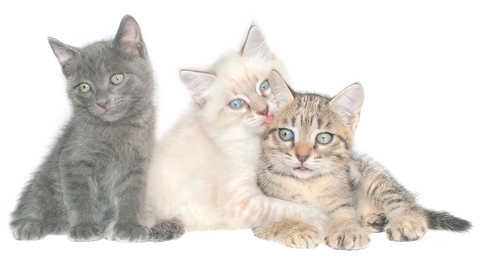 Bi-color
Dark patches on a white coat.
Blue
Any shade of cold-toned grey.
Blue-cream
A diluted version of tortie with a patched or a mingled coat of palest grey and cream.
Bronze
A warm coppery brown that lightens to buff.
Brown
Any shade of dark brown except when it refers to a brown tabby which is cat coat color that is genetically black and has black markings on a grizzled background.
Cameo
White fur with red tips.
Caramel
A subtle pale orange brown.
Champagne
Cream with warm honey beige that shades to pale gold tan.
Chinchilla
White coat with darker color tips.
Chocolate
A very rich, warm brown.
Cinnamon
Lighter shades of chocolate.
Colorpoint
Same color body with the tail, face, paws and ears another color.
Harlequin
A bi-color coat with 50-75 percent white and 25-50 percent color.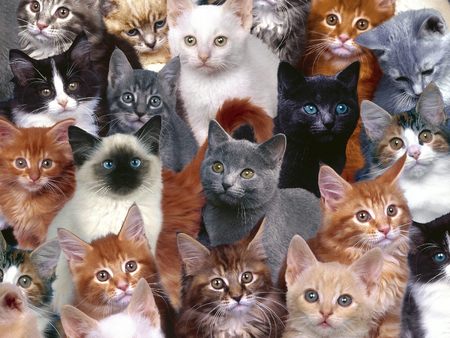 Lilac
A very pale, warm-toned grey.
Mink
A range of colors of the Tonkinese breed.
Parti-color
Both bi-colors and torties.
Patched
A two-tone tabby coat with lighter and darker patches, mingling tortie and tabby.
Platinum
Pale silvery gray with pale fawn undertones.
Red
Any shade of ginger with the deep coppery tones being the most sought after.
Ruddy
A modification of black to reddish brown and burnt sienna.
Sable This term is used to describe dark brown cats who are genetically black.
Self
Only one color.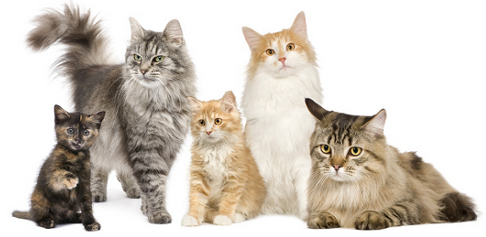 Smoke
A white undercoat with topcoat hair that is white at the roots and colored at the ends.
Sorrel
A modification of red to brownish orange to light brown.
Tabby
There are four basic tabby patterns: ticked each hair has contrasting dark and light color bands, spotted as the name suggests, classic the sides are blotched with whorls and mackerel vertically striped.
Tipped
The hairs are differently colored only at the ends.
Tortie and white (Calico)
Tri-colored - black, red and white.
Tortie (Tortoiseshell)
A two-colored coat.
Not only are there Different Cat Coat Colors, but also Different Cat Breeds
Is your cat a Pedigree, Non-pedigree or a Cross-breed?