Beginning to wonder
by Mischief's mumma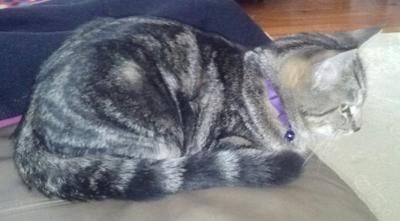 I'm beginning to wonder if the kitten I have is actually a Bengal? She certainly has the personality you've describbed, eats a lot and has the "swirl" pattern you mention. She's the only one in the litter with these markings, and I could never get past that she looks like a Tabby but with an interesting pattern! I'll attach a couple of photos, I've lucked out with nap time... she can get wild!

She has the stripping on her face and legs, the spotting on her belly and the swirl on her body... she's such a love, especially at 4:30 am when she's ready to eat! Oh, the name Mischief fit her at 2wks old and we couldn't come up with any other name that fits her better. She's super friendly, loves my dogs and isnt't scared of much. Thanks for this website, you learn something new everyday!
Join in and write your own page! It's easy to do. How? Simply click here to return to Share your stories about your Bengal cat here!.