The American Bobtail Cat Breed
History
The development of the American Bobtail cat breed began only in the late 1960's. A young couple, John and Brenda Sanders were driving through an Indian Reservation in Arizona when they came upon a kitten with a short tail. They took this kitten home and named him Yodi.
When Yodi and the Sanders non-pedigree domestic cat mated, the kittens all had Yodi's unusual short tail. Charlotte Bentley and Mindi Shultz, who were friends of the young couple, saw the potential of a new cat breed.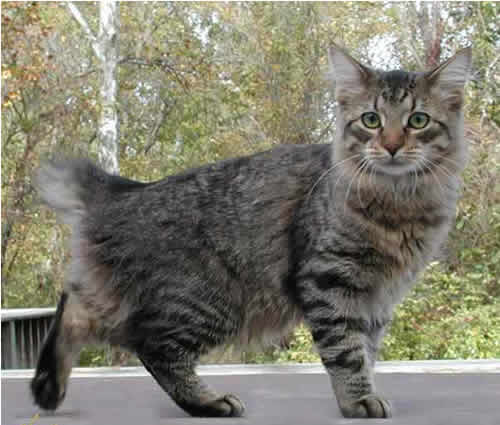 The first true American Bobtails were produced by them when they out-crossed the bobtail kittens with a long-haired color point cat. TICA recognized the breed as a naturally occurring cat breed in 1989. Feral bobtailed cats were the foundation stock of this breed, but most breeders do not use feral cats anymore.
---
Description
The American Bobtail is a medium to large sized cat that is native to North America. This short-tailed cat is well-muscled and solid, but is graceful and athletic. The short bobtail is the cat's most distinguishing feature and no two tails are the same.
As the name suggests, the most unusual trait is the cat's shortened tail. Breed standards require the tail to be a minimum of one inch in length and not longer than the hock. Each kitten in a litter will have a different tail length as the mutation gene responsible for the short tail is not controllable.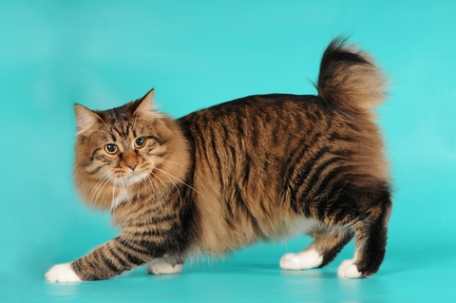 This cat breed literally comes in any color and pattern ranging from chocolate, black, brown, blue, lilac, red, cream, cinnamon and fawn.
There are two hair lengths – short hair and long hair. The short hair variety is thick and plush and requires a brushing once a week. The long haired coat requires a grooming session twice a week to keep it from becoming dull. Adult males weigh between 12-16 pounds and adult females weigh between 7-11 pounds.
---
Personality & Temperament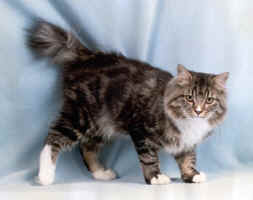 This cat breed will form a strong bond with the entire family and gets along well with other pets and children.
These cats do not like being on their own and are very affectionate, however, they are not a cat that will be in your face all the time.
Although they are active, they are not constantly in motion. They can be taught to play fetch and to walk on a leash.
---
Health Issues
The American Bobtail cat breed is a very hardy breed with few known health issues, however, speak to the breeder as he/she should be able to inform you of any problems that might have come up in the past.
Return to Different Cat Breeds from The American Bobtail
Custom Search
Do you have a story about your American Bobtail cat that you would like other cat lovers to hear about?
Cat Breed Info is all about cats and people like you who love cats. That's why we would like to hear your stories - whether its about your princely Persian, your sultry Siamese or your mischievious Moggy, we want to hear it!
What other visitors have said
Click below to see contributions from other cat lovers to this page...

My Bob tails name is Cletus😻 Not rated yet
I got Cletus when she was about seven weeks old. Some family at Walmart were giving her away for free. They said if no one would take her she would just …